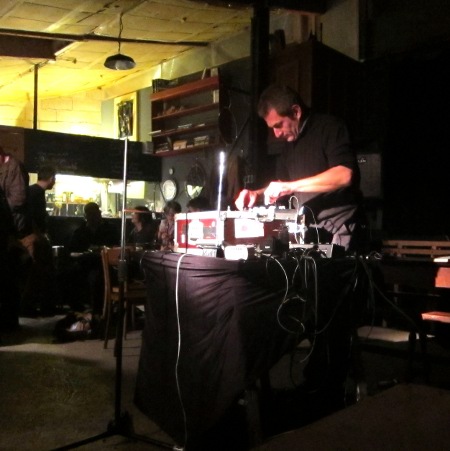 Bien-sûr excellent concert de Jérôme Noetinger, endroit chic, audience à l'admiration bien élevée.
Je ne me sens pas l'âme si didactique, et j'ai déjà expliqué ce qui me fascinait dans la musique expérimentale avec suffisament de mots précis :
- l'émergence d'un monde cohérent (un monde de signaux désirants)
- l'agencement du temps (deux temps).
C'est très personnel. Cette création/émergence d'une trame - avant tout temporelle - adresse ce qui doit être ma plus grosse angoisse existentielle :
But I still have to face the hours, don't I? I mean, the hours after the party, and the hours after that…
Ça c'est l'écrivain qui va se jeter par la fenêtre dans The Hours, que j'ai mal vu sur le coin d'une télé. (non je ne veux pas parler des heures qui suivent un concert, au contraire, je suis souvent dans un état très exaltée s'il était bon… justement, je parle de toutes les autres)
Et aussi il y a ce genre de choses : Time Travel and Modern Physics…
Est-ce que sans rire, je peux dire que suffisament nourrie des mystères de l'univers, je n'ai même plus tant besoin de contacts sociaux, alors que depuis relativement récemment, à presque 40 ans, je suis en train d'accepter d'en avoir besoin ? (non, écrire cette phrase me fait quand même rigoler)
Je pense régulièrement au film de Mike Leigh, Naked et à cette tirade de Johnny :
Was I bored? No, I wasn't fuckin' bored. I'm never bored. That's the trouble with everybody - you're all so bored. You've had nature explained to you and you're bored with it, you've had the living body explained to you and you're bored with it, you've had the universe explained to you and you're bored with it, so now you want cheap thrills and, like, plenty of them, and it doesn't matter how tawdry or vacuous they are as long as it's new as long as it's new as long as it flashes and fuckin' bleeps in forty fuckin' different colors. So whatever else you can say about me, I'm not fuckin' bored.
Je ne suis pas si revendicatrice, ce you s'adresse à moi-même, avant tout. Naked, que, chose très rare, j'avais été voir plusieurs fois au cinéma à sa sortie, fait partie de ces films qui m'ont été si importants que je n'ose pas les revoir de peur de me trouver rétrospectivement insupportable.