(attention, je vais oser t'apostropher, hypothétique lecteur, mais comme je méprise du fond de mes entrailles les sites qui me supposent oiselle pré-adolescente et me tutoient, je vais pratiquer par la suite une distance polie et de bon aloi, surtout pour le cas, admettons-le, malgré tout relativement improbable où tu serais vraiment en train de lire ce post et où je ne te connaitrais pas, même de loin)
Bon, dans le cas plus que problable où je vous connais un peu et que vous avez l'insigne honneur d'être un cher et tendre mien ami sur fesses-de-bouc comme dit mon ostrogoth, vous ne serez certainement pas passé à coté de cette émouvante nouvelle : j'ai rebranché samedi ma platine vinyl et je m'en félicite. Pauvre parente de ma chaîne haute fidélité (Denon millésime 93, petits bijoux d'enceintes JM lab 93 aussi, 4 mois d'ennui ferme au département Hardware Mainframe chez un constructeur informatique nippo-britton à Reading UK pour m'offrir ça), toujours la dernière à suivre (ou à ne pas suivre d'ailleurs) dans les déménagements et être enfin réinstallée après des mois de tractations pour lui dégager un cube suffisament spacieux.
Et j'ai retrouvé ce disque complètement mythique : Tony Conrad with Faust, Outside the dream syndicate, 1973 Caroline Records. Sauf que je n'ai aucun souvenir de l'avoir acheté ou même écouté. Si j'en crois l'étiquette, je l'ai payé 10F00 (oui prequ'exactement 1,50 euros ami lecteur), en 1996, au Boulinier su'l'Boul'Mich, ce qui me semble totalement concordant avec quelque chose que j'aurais pu faire pour de vrai, surtout qu'à l'époque, je devais justement être dans une période sans (platine vinyl), n'ayant plus guère l'occasion d'arpenter le boul'Mich que lors de salvatrices remontées en TGV — j'avais quelques difficultés à m'acclimater à la vie lyonnaise — et reléguant l'idée d'écouter ce disque au même niveau qu'une tetrafoultitude d'autres trucs primordiaux mais pratiquement inaccessibles (à mon temps libre, à ma volonté, à mon porte-feuille, à ma capacité de concentration etc.).
Donc je l'ai acheté et je l'ai oublié. Et hormis le fait qu'il est décidement vraiment très bon, qu'il participe à une coïncidence toute fraîche (Tony Conrad a réalisé la bande sonore de Flaming Creatures de Jack Smith, que j'ai eu la chance de voir projeté sur grand écran ce week-end au musée de la danse/le garage, si le coeur vous en dit, il est aussi possible de visionner Flaming Creatures sur Ubu web, "The film features an array of transvestites, hermaphrodites, drag shows, a sexually ambiguous vampire, a drug orgy and a well-built cunnilingual rapist. Sexual ambiguity is a prominent visual theme, which is particularly shown by overlapping images of flaccid penises and breasts." — ça c'était pour les mots-clefs ), ce disque, donc, me permet, à moi aussi, de me faire une sleeveface.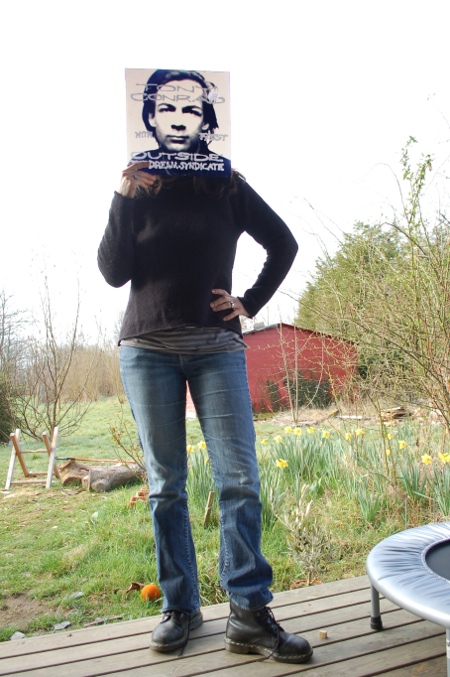 (le titre de ce post est celui d'une chanson de Rubin Steiner)
(demain promis, j'arrête les docs martens, ça va finir par devenir pathétique)
(explosion de jonquilles, c'est le printemps)