Pas mal de sorties ces derniers temps, en garder trace.
Soirée du 15 octobre, festival electroni-k D.V.D, - Origamibiro & the Joy of Box - Damien Marchal - H5, tout très bon, étonnant, belle progression dans la programmation avec en final donc les japonais de Drum Visual Drum 2 batteurs, un autre aux effets vidéos en interaction directe avec les beats, parfois en coopération, toujours ludique, mais déception du cd avec des batteries effacés, balance assez plate. Depuis le temps que j'essaye des disques de percussions japonaises, j'ai systématiquement été déçue de l'enregistrement, sans dynamique, un défi certainement, j'espérais qu'au moins là, avec des batteries rock basiques, le problème serait réglé… ou alors c'est une sorte d'éloge de l'ombre, auditive cette fois-ci. (en percus asiatiques, il y a quand mm ce Tzadik-là qui est fabulous : New Traditions in East Asian Bar Bands)
Toujours elctroni-k, assisté avec mes petits barbares à la performance de Tomoko Sauvage : waterbowls. Un peu aussi flou que cette photo, la gestion de petits corps impatients m'ayant pas mal pompé d'énergie, mais nous avons survếcu et c'était globalement agréable, même si je n'ai pas pu tout comprendre de sa façon de procéder.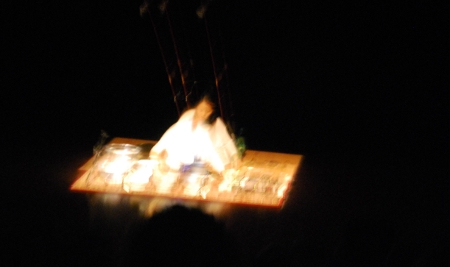 Par "hasard", celui-ci étant généralement bon avec moi, je suis allée à la soirée de cloture du projet rebutoh du musée de la danse, au Garage à Rennes : http://www.museedeladanse.org/projets/rebutoh à la superbe accroche : "rebutant sera le butoh nouveau" . Je suis d'une inculture totale pour ce qui concerne la danse, ayant assisté tout au plus à une demie-douzaine de représentations, toutes lorsque nous habitions Tel Aviv, la scène locale étant particulièrement vivante et accessoirement ne nécéssitant pas une grande compréhension de l'hebreu. Pour ce qui est du butoh, ma seule expérience se résume à la performance de CCCC relatée dans ce post-là et dont j'ai la photo sur le mur en face de moi.
Et aujourd'hui j'ai envie d'interpeller les derniers punks pour leur porter la bonne nouvelle : c'est là que se niche désormais la subversion. Ou pas. Ça ne cessera de m'épater, tant tout ceci semble subventionné, institutionnalisé, et pourtant adresse sans ménagement l/mes/nos zones d'incertitudes. Tant que le public reste bien élevé.. says my man, l'institution dort tranquille, mais quelle question plus subversive que celle du corps ? (tope-là Antonin)
Xavier Le Roy en première partie, a fait un exposé spectacle très didactique et passionnant sur ce qu'était le butoh pour lui. J'en retiens entre autre l'idée de devenir plutôt que d'incarner (topez-là Gillou et Félix), ce qui en fin de compte correspond plus à ma propre culture de spectacles vivants (tendance trash).
J'ai aussi compris, de ce qu'il disait, que le premier effet de mon ignorance de cet art me faisait ne voir que les corps alors qu'il me semble que les danseurs montrent avant tout le mouvement. Pour moi le corps est une question, est-il une donnée pour le danseur ? Ou bien est-ce que cette ambivalence-là n'est pas l'interrogation essentielle de la danse ? Je n'en sais rien, mais c'est un peu celle que j'ai tirée du troisième spectacle. À dire vrai, j'ai trouvé ce spectacle un peu injuste (bien que très divertissant). À la recherche de ce que signifie le butoh pour lui, j'ai cru comprendre que le metteur en scène/chorégraphe Yves-Noël Genod, tentait de transposer quelques clichés féminins (l'amoureuse éconduite, la pin-up revancharde, l'ennuyée, la japonaise kawaï hysterique…) vers quelque chose qui mêlerait grostesque et minimalisme, pour au final offrir 5 dindes et un dindon, glougloutants en parades d'approche et chiants devant le premier rang. J'ai perçu à plusieurs reprises la phrase "toutes les femmes sont belles", mais quelle injustice facile et moralisante quand à deux corps sublimes il en juxtapose un troisième bien moins cannonique. Et en quoi veut-il agglomérer chaque individu d'un public forcément captif lorsqu'il dévoile au fond, les mirroirs nous reflétant en train de glousser devant des animaux de ferme ? Aussi enthousiasmant ce spectacle par tous ses agencements étonnants et vifs, aussi je l'ai trouvé injuste. (mais dans quelle langue est cette phrase ?) Toutefois, j'ai vu Jeanne Balibar (presque) à poil, ce qui ne manquera pas d'épater mon frère lors du prochain repas de Noël.
Le second spectacle était la dilatation, par Latifa Laâbissi, sur une demie-heure d'une chorégraphie expressionniste "la danse de la sorcière", que j'ai trouvée très impressionnante (voir l'originale sur les archives de beaubourg ici).
Au fait, est-ce que quelqu'un a déjà dit que le 21ième siècle serait japonais (ou ne serait pas) ? À présent que l'exotisme de la fin du 20ième est passé, j'ai parfois l'impression d'assister à une japonisation normalisante de toutes parts, et je serai d'ailleurs, bien la dernière à la renier.
Cela dit, dès que je clique sur publish (or perish) nous partons traverser la Fronze par la diagonale pour quelques jours and back, donc un peu baclé.